Web Hosting Party in Singapore: WHD.asia event
9th Sep 2014

by: Ah Hock
note: 0 Comments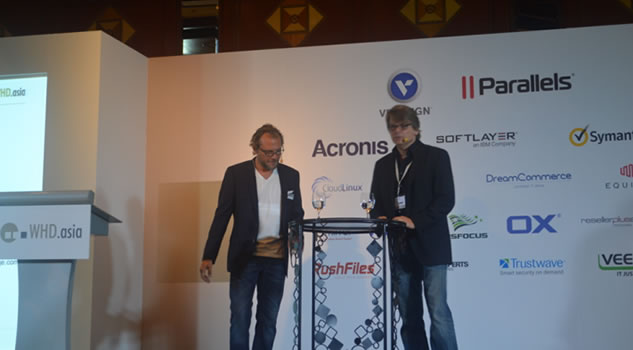 Soeren von Varchmin (left) GM at WorldHostingDays & Mikko Linnamakii (right) [Co-founder of Dovecot OY]
Our team was at the WHD.asia event party in Singapore last week. The event gave opportunities to facilitate hosting services and its peripheral services knowledge sharing, new value added hosting services technology showcase, and social networking with web hosting veterans from other countries.
Many hosting technology companies joined forces to raise awareness of the hosting trends and its direction. For instance, specialize web hosting services and value added services bundling were the keywords mentioned that are on the rise. New businesses opportunities include managed web hosting.
Dropbox alternative made their presence felt here. You may want to consider using Rushfile to bundle with your web hosting services for corporate clients as it offers better scalability and privacy controls.
Email service is still very important and critical as ever. Dovecot's IMAP and its founder were at the party to share with us their history.
Other interesting facts on display were:
- Global SMB Cloud hosting market grew 37% to USD $62b in 2013.
- Singapore's SMB Cloud hosting market is valued at USD $416m in 2014.
It was a great success with many internationally prominent developers and researchers attending the conference and active exchanges that took place among attendees.
- End -
Webqom provides internet solution services, software and web hosting services infrastructure - especially in web and mobile applications, VPS, dedicated server and the cloud - are enabling the industry to do better business, increase efficiency, improve the user experience and capture new opportunities.