From The Grandest Of Gestures To The Smallest Of Details
13th Jul 2016

by: Danny Foo
note: 0 Comments
I was thrilled by Bentley Motors new responsive website. I am pretty sure you will enjoy the amazing zoom in from the 'grandest of gestures to the smallest of details'. The creative designer crafted an elegant, fast, and intuitive way to see the best and powerful work. The image captures the new Mulsanne Extended Wheelbase, driving across the iconic Golden Gate bridge. On zooming in, its sleek lines and exquisite duo-tone finish are revealed in all their glory. And the journey doesn't stop there. Further zooming reveals not just the exterior brightware of the car, but the handcrafted interior details that make it truly unique.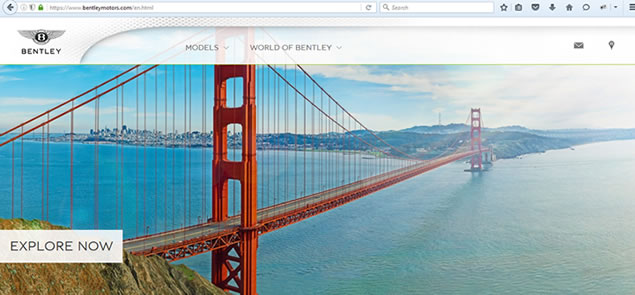 Creating a groundbreaking gigapixel image
Finding the right, high quality images for your website is important. The quality of the images can affect how your visitors perceive your website – whether it is credible or not. We all tend to gravitate towards nice and pretty pictures. For this project, an extraordinary car photograph consisting of 53,000,000,000 pixels was captured and used. This is a website with serious photography, an incredible 4,425 times larger than a typical smartphone image, this extraordinary photograph is made up of approximately 53 billion pixels, created by taking 700 individual shots from the same location and 'stitching' them together digitally. The result, if reproduced in standard print format, would be the size of a football field. Bentley's new web design showcase creative talent and a trustworthy professional who cares. Both are at the core of its promise.
The photos used here are spectacular! The photos have added a wonderful dimension to the website. Three Nikon D810 cameras were needed to capture the entire photo and, to keep everything in sharp focus, the lenses used ran from 200mm to 1500mm in length.
Website : http://www.bentleymotors.com
Web Server : IIS 6
Content Management System : Adobe CQ
Frameworks : ASP.NET 2.0
Content Management System
This website is run by CQ5, a content management system from Adobe. Those businesses who have utilized CQ5 resources are primarily larger, Fortune 50 organizations. That's because this content management system has been targeted for larger corporations with sizable, often global infrastructures. These notable organizations come from a variety of verticals in media, education, food & service, automakers, cable & internet, among others.
So why do these successful companies and institutions opt for CQ5? The answer boils down to two primary reasons: usability and flexibility.
There are multiple advantages to CQ5 that cater to organizations with large amounts of complex content. To begin, its web content management abilities make content authoring easy for non-technical employees to publish across multiple channels within a preset editorial process from the content author, to content approver. The easy-to-use interface of CQ5 further minimizes business disruption by eliminating the need for timely retraining of the content authoring process.
CQ5 is a scalable enterprise application with optional modules to support online marketing. There are advanced tools for rapid rollout and management of new marketing campaigns, content and global brand messaging across the University's web presence, creating and testing changes in real-time, and applying specific content marketing rules.
Acquiring the right CMS solution to address your needs is only the first part. Whether your CMS project is successful, and whether you are able to leverage the functionality offered by a CMS product may very well depend on which company you choose to partner with to provide product and domain expertise. When referring to CQ5, a developer once compared it to an F1 car; if you know how to drive it, you'll move really fast. If you don't…you'll run into some hefty trouble at the first turn. A skilled implementation team can take advantage of the flexibility of CQ5, particularly if the current technology is built on a Java stack.
Whether you are looking at revamping your entire website (or websites) and underlying front-end infrastructure, or simply replacing your existing content management system with another CMS platform, we can assist you by understanding your needs and providing functional, technical domain expertise.
Danny Foo is Bootstrap and HTML5 expert. When he is not in the office, you can usually find him running on his treadmill and coding on his laptop at the gym bar.