2016 Web Hosting Market Share & Trends
10th Aug 2016

by: Danny Foo
note: 0 Comments
As the competitiveness of the web hosting industry continues to rise, consumers will continue to benefit. More services will become standard and included at existing prices, enabling and accelerating the flood of blogs, business websites, and SaaS software. The age of service has finally arrived, and this is a boon for everyone.
In the fast-paced Internet world, useful information equals value. Realizing this, web hosts will start offering more insights and advice for even their smallest clients. Already, companies are avoiding constant promotions in favor of publishing news, information, insights, infographics, trends and tips. Such approaches will grow more common in the future as companies work to establish themselves as trusted authorities within the industry.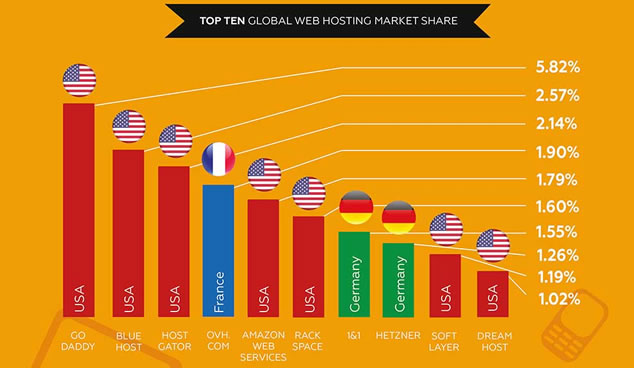 According to the Host Advice's research results, GoDaddy ranks the highest in the industry with 5.82% of market share amongst worldwide web hosting sites, beating industry giants such as Amazon Web Services and Rackspace. Out of Host Advice's top ten hosting sites, seven are American companies, one is French, and two are German. Host Advice's data also indicates that 49.49% of the world's websites are hosted by a US-based provider.
- Many non-US companies actually choose American hosting companies
- The top ten hosting companies dominate 20.7% of the market
- The web hosting market is very local in nature. For example, in France, eight out of the top ten hosting websites are French, and similarly with Germany and German companies. In Italy, nine out of the top ten hosting sites are Italian and in smaller markets like the Czech Republic, ten out of the top ten hosting companies are local.
- No company has a monopoly. In most countries the top global companies occupy less than 20% of the market. France is the only exception with OVH dominating 64% of the local market
- Commerce company Shopify is Canada's third biggest web hosting company, despite not being considered a web hosting provider



"Cloud computing represents a paradigm shift for the server hardware manufacturers," said Etay Lee, General Manager, Network & Communication Business Unit, GIGABYTE. "The hardware infrastructure is only as powerful as the software it runs, and vice versa. As a hardware company, we strive to identify first-class software vendors and collaborate with them to create tried-and-true total solutions for our customers.

Security lies at the cornerstone of hosting. Data is being moved into the cloud, including medical records and other sensitive information. 'Cyber warfare' could become more common in politics and conflict. Security is therefore a big buzzword in hosting, and it will continue to dominate the industry over the coming years - or even decades.

As mobile changes from a luxury to a necessity, hosts will start offering more and more features directed specifically at the mobile side and mobile optimization, including development tools and mobile-specific data reports. If you think we have a lot of Web apps and smartphone apps now, just wait until the market starts to mature.

Danny Foo is Bootstrap and HTML5 expert. When he is not in the office, you can usually find him running on his treadmill and coding on his laptop at the gym bar.