Evolution From Big Box Giant To E-Commerce Innovator
29th Aug 2016

by: Danny Foo
note: 0 Comments
We continue to see ecommerce to be an innovator's market, and if you're not adapting and evolving to meet the needs of your customers, then there is a good chance you'll be left behind. The same can be said for online shopping. No longer is a simple store with some nice items enough to wrangle in the shopper, online business owner will have to continue to make strides if they are to keep up with online powerhouses like Amazon.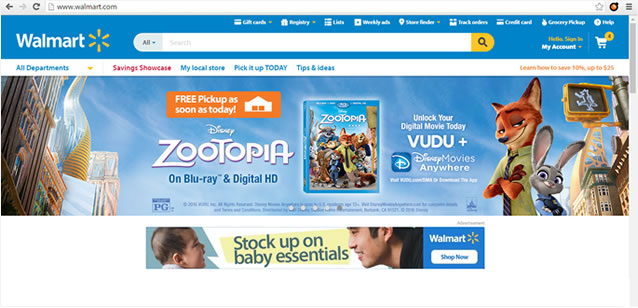 Website : http://www.walmart.com/
Web Server : Apache
Ecommerce Management System : WebCollage
Frameworks : Ruby On Rails
In today's hyper-competitive market, it all comes down to how customers experience your brand online. Those brands that can anticipate and meet - or exceed - customer expectations, actively engaging shoppers online and via mobile, will be the big winners eventually. Those online retailers that adhere to the traditional brand-centric ecommerce model will lose - both customers and revenue. Instead, business owners are looking for platforms that can adapt and change to fit their needs, ones that allow for additional plugins and options past just "check out" and "view cart." Xcom88, is one such application that allows for complete customization for the web owner.
Ecommerce sales continue to grow, generating over $300 billion in the U.S. alone this year. Yet ecommerce still remains a small percent of overall retail sales at approx. 10%. So what can multichannel and ecommerce retailers do to increase their online sales?
Wal-Mart, in its latest bid to compete with nemesis Amazon.com, is rebuilding its website to further personalize the online shopping experience of each customer.
Wal-Mart has rolled out a feature that will enable its responsive website to show shoppers more products that they may like based on previous purchases. It will also customize Wal-Mart's home page for each shopper based on the customer's location, local weather, and the customer's search and purchase history.
So if a new mom just bought a stroller or crib on Walmart.com, the revamped ecommerce website might recommend diapers and car seats, too. And if someone who lives in Dallas searches the website for sports jerseys, Walmart.com could suggest Rangers or Dallas Cowboy gear.
The increased personalization is part of a series of changes to improve the online shopping experience of its customers that are rolling out now and over the next few months. The retailer is looking to boost its business online at a time when its U.S. discount division has seen disappointing sales.
Wal-Mart Stores Inc.'s e-commerce sales increased by 30 percent to over $10 billion in its fiscal year that ended Jan. 31. By comparison, Wal-Mart's U.S. discount division has had five straight quarters of sales declines at stores opened at least a year. Wal-Mart sees big growth opportunity in the online business: Online sales still are only a fraction of the $473 billion Wal-Mart generated in overall annual revenue, dwarfed by Amazon's $60.9 billion in annual sales.
The move to personalize responsive websites for shoppers has become a top priority for traditional brick-and-mortar retailers like Wal-Mart as they play catch up with Amazon.com, the online king that pioneered customizing content for shoppers. Retailers increasingly are trying to use their reams of customer data they get from mobile devices and computers to personalize their responsive websites and ultimately, boost sales.
That future begins, like everything else, with a smartphone app. Walmart imagines that as you go through an average day, you'll remember things you need-milk, bread, a new tennis racquet, a toy truck for your nephew's birthday-and tell the voice-enabled Walmart app. The app will list each item's location inside your local Walmart and include product info; eventually, it will also learn your preferences and offer recommendations. And once you're actually in the store, you'll be able to summon an associate to help you. Walmart's current iPhone app has only a few of these features: The voice-list system works very well, and, depending on which store you're in and what you're looking for, the app can sometimes locate your product.
This is an exciting time to be in ecommerce, as businesses continue to innovate and get an edge on the competition.
Don't forget: Innovation isn't all about the capital you have to invest in new initiatives. Many times, spending can actually get in the way of innovating, because creativity is what makes all the difference.
New business processes don't necessarily require money, but they do require outside-the-box thinking. You have to be able to see possibilities where others might see none.
Get ready to generate new ideas, because we will be seeing fascinating and unusual changes in the ecommerce realm.
Danny Foo is Bootstrap and HTML5 expert. When he is not in the office, you can usually find him running on his treadmill and coding on his laptop at the gym bar.