Webqom empowers MNY Hotel's Direct Revenue channel with its Booking Engine Platform
23rd Jun 2022

by: Bryan Jani
note: 0 Comments
Covering the new website revamp
MNY Hotel & Resort is one of several beautiful resorts in Pulau Pangkor, Perak. The hotel has been operating years without any online booking engine. Therefore it has never received any bookings from their official website.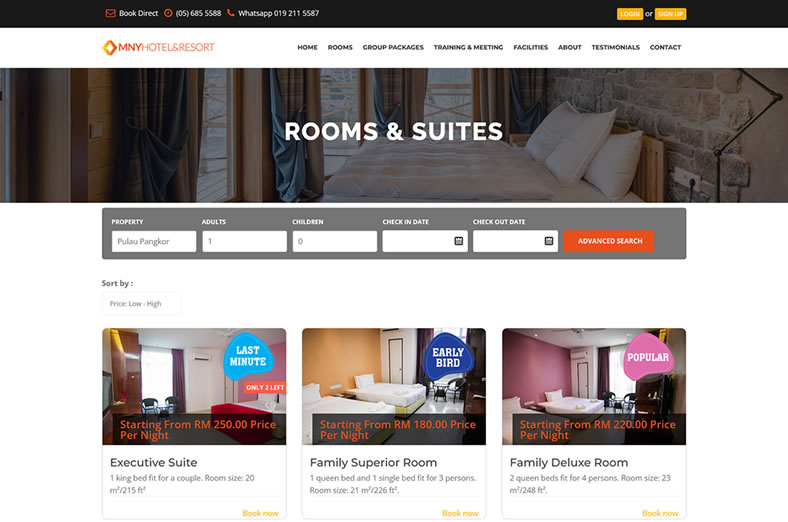 In 2020, MNY Hotel & Resort partnered with Webqom with the aim to increase its direct booking revenue through Webqom's four in one technological solutions to manage the hotel's various online initiatives. Webqom's online hotel booking engine solution was commissioned to ease direct booking. A new responsive website design was also provided. The hotel booking engine together with the new design sits on a branded, dual core Intel processors powered server. The powerful server located in Tier 3 data center in Cyberjaya works as a web hosting platform for this online initiative. Webqom's integrated CMS platform provides total sales visibility and content management flexibility. The system is also integrated with major payment gateway providers, such as eGHL, Stripe, Paypal and iPay88.
About Webqom's online hotel booking engine solution
The solution is an integrated CMS for ecommerce, order management, price management, contents management and automated payment gateway, simplifying and enhancing the payment experience for hotels as well as their guests. Our all-in-one solution enables hoteliers to accept more payment methods, authorize more transactions and simplify operations.
The aim of this solution is to bring ease to the whole online hotel management process, as well as peace of mind in regard to security.
WHATSAPP FOR A DEMO: +60166269561